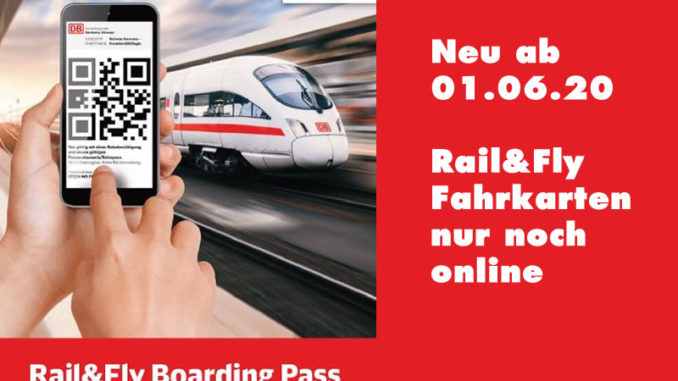 Für Flug-Neubuchungen mit DB Rail&Fly ab dem 01. Juni 2020 gibt es keine Pick-up Nummern mehr. Eine Abholung der Rail&Fly Fahrkarte ist dann an DB Fahrkartenautomaten dann nicht mehr möglich.
Der Ausdruck Ihres Rail&Fly Zugtickets ist dann nur noch über Internetseite www.rail-checkin.com mit Angabe des Namens und dem Reservierungscode der jeweiligen Fluggesellschaft ODER oder der eTicket-Nummer möglich und dann die Fahrkarte ausdrucken.
Alternativ kann man auch mit mobilem Endgerät (Handy, Tablett) die Fahrkarte digital abspeichern und im Zug vorzeigen. Ein Ausdruck ist daher nicht zwingend erforderlich. Wie bisher können Sie ab 72
Stunden vor Abreise Ihr Rail&Fly Ticket "ausdrucken" oder mobil speichern.
Auch wurde auf der Internetseite die Möglichkeit integriert, nach Wunsch in einem Schritt eine kostenpflichtige Sitzplatzreservierung hinzuzubuchen.
Sollte es Ihnen einmal nicht möglich sein, den Boarding Pass vorab online abzurufen, stehen in den Reisezentren der Flughäfen Frankfurt und Düsseldorf sowie
an vielen großen Hauptbahnhöfen DB Kundenterminals bereit, an denen Rail&Fly Boardingpässe ausgedruckt werden können.
Diese Neuerung gilt für alle Neubuchungen ab 01. Juni 2020 !
Für alle bestehenden alten Buchungen/Flugtickets die bis 31. Mai 2020 ausgestellt wurden, werden weiterhin gültige Pick-up Nummern ausgespielt, die auch nach dem 01.06.20 Juni noch für die Reise genutzt werden können.
Rail&Fly tickets from 01, June, 20 onwards – only online apply.
We would like to remind you, that for new bookings from 01st June 2020 no pick-up numbers will be provided anymore.
Therefore, it will not be possible anymore to print the Rail&Fly boarding passes at our DB vending machines.
In the future the check-in process will take place exclusively online via the well-established website www.rail-checkin.com by entering PNR or eTicket number.
Passengers can also access this website with their mobile devices and download the boarding pass e.g. on their mobile phone to present it onboard the train. There is no need to
physically print out the ticket. As before, check-in is open from 72 hours before departure.
The check-in platform is now also equipped with the possibility for an optional seat reservation at an extra charge.
Should you not be able to check-in online for your journey, they can find DB self-service terminals at Frankfurt and Dusseldorf Airport and at major German central stations.
At these terminals it is also possible to check-in and print your ticket.
This new process applies to all new bookings from 01st June 2020.
Existing bookings done until 31st May 2020 will be provided
with a valid pick-up number that can be used for travel after 01st June as well.